Selfly Store provides complete and easy-to-set-up intelligent retail solutions to enable merchants and consumers to meet through easy and convenient grab-n-go shopping. Our intelligent cabinets, Selfly Stores, are powered by RFID technology and connected to the Selfly Cloud, which allows merchants to remotely operate their Selfly Stores with access to real-time data. Today, our Selfly Stores are used by more than 100 forward-thinking companies in 21 countries across Europe. Our biggest markets are France, Switzerland, Germany, Finland, and Sweden. We develop and produce all our products in Finland.
The 1000-year-old vending industry stands on the verge of disruption
The vending machine industry dates back to the first century in Egypt, when coin-based machines were introduced to dispense holy water at temples. Later, in the 19th century, vending machines were used to sell newspapers, stamps, cigarettes and chewing gums.
In recent years, increasingly intelligent vending solutions are being introduced around the world. While a majority of the machines on the market still operate with traditional vending dispense technology, the entry of intelligent machines is predicted to disrupt the vending industry over the next 10 years. The new technology and availability to data enable completely new product assortments and business models. As a forerunner in the intelligent vending space, Selfly Store aims to lead the imminent market disruption. We do this by combining best practices of brick-and-mortar retail and e-commerce – merging the physical shopping experience with a digitally enhanced grab-and-go service.
Our vision
People's needs are predicted in advance, enabling them to 'selfly' preferred goods at the right time and place, with zero waiting time and food waste.
With this we mean that when people have access to Selfly Stores wherever they need them, they will be able to quickly serve themselves with whatever they need. As the solution is becoming increasingly intelligent all the time, AI will guide merchants to fill their cabinets with exactly the right items that consumer crave at that specific place and time. On top of this, we know that the Selfly Store solution also contributes to food waste reduction with it's clever expiry date management features.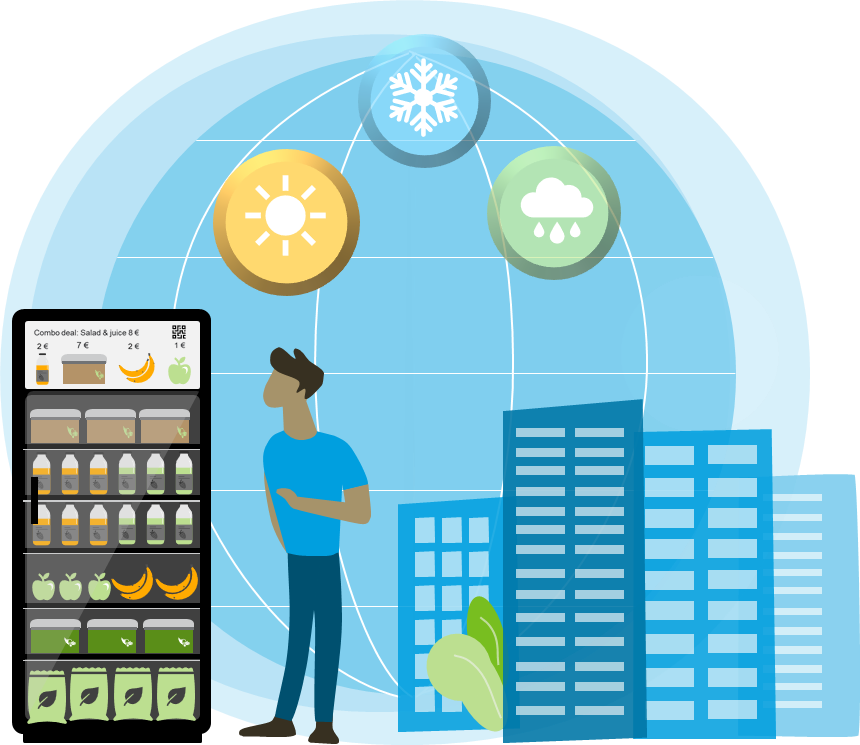 Year 1288
Stora Enso is one of the world's oldest companies, and with its roots in copper mining, the company has evolved into a leading renewable materials company. The company's survival has depended on innovation of new products as well as new business models – one of them being Selfly Store.
Year 2016
It all began in 2016, when two Stora Enso employees were given funds to innovate a paper-based RFID (radio frequency identification) tag. These tags are used to identify and detect items via remote scanning and can include information about the items they are attached upon. Read more about RFID technology here.
Year 2017
In 2017 a customer suggested a new use case for the paper-based RFID tags – a novel type of vending machine which would carry almost any type of products and identify them with RFID tags. In addition to the hardware, a cloud solution would provide real-time data of the items in the cabinet. The first prototype of an intelligent fridge hit the market a few months later.
Year 2019
In 2019 the next generation of the intelligent fridge and cloud solution was rolled out. Some of the improvements comprised for example a screen on top of the cabinet to showcase items and to do on-screen advertising.
Year 2021
In 2021 Selfly Store became its own company. Selfly Store is still owned by Stora Enso, which gives us all the benefits that come with a strong corporate owner and at the same time the freedom to operate as a quick and agile startup.
Year 2022
2022 was the year of the next big steps for Selfly Store. The 3rd generation cabinet design was developed significantly, and the product line was extended to three variants – a room temperature cabinet, a fridge, and a freezer. Moreover, the cloud solution was developed with new features, for example expiry-date management. Another substantial step was to offer all Selfly Store customers consultancy services for successful operations. The learnings and data from operating in almost 20 countries certainly provide new and interesting opportunities for vending machine operators.
Year 2023
The world's first truly intelligent vending freezer is launched commercially in the Metaverse in April. The Selfly Freezer is part of the Selfly Store Model 3 product family, and won the prestigious award "Best Machine Innovation" at Vendies in London 2023.
Contact us
What would you like to get in touch about?