Selfly Store's Intelligent Cabinets Streamline Foodservice at Slush 2022
In November 2022, Slush, the world's leading startup event was held in Helsinki, Finland. The event is organised annually, and this particular year Slush gathered an audience of 12 000, comprising investors, founders, and media. Naturally, an event of this size entails incredibly complex planning of the logistics to run smoothly, and one of the logistical challenges is directly related to foodservices at the event. Queues unavoidably start forming around lunch time and visitors can quickly become frustrated when trying to get food quickly to get back to their otherwise packed and exciting event agenda.
There, a Finnish market leading foodservice company, was responsible for fuelling the guests with energy. Lately, they have also lately expanded their offering from restaurant and cafe services, to also include self-service solutions, such as mini-markets and vending solutions. At Slush 2022 they decided to try an entirely new model of collaboration with Selfly Store.
Selfly Store brought 15 Selfly Store Model 3 cabinets to the venue and in agreement with a company placed them in four strategic locations – two nearby to the cafeteria area and two closer to the main stages. The idea was to give guests the option to quickly 'selfly' their food from Selfly Store cabinet, where the serving time per customer is only 30 seconds.
Selfly Store brought a team onside to support the company with tagging the food with pre-printed tags and packing the food into the cabinets, as well as to greet consumers and support them with any questions they might have when shopping in the Selfly Store. Now you are wondering how it all played out, right?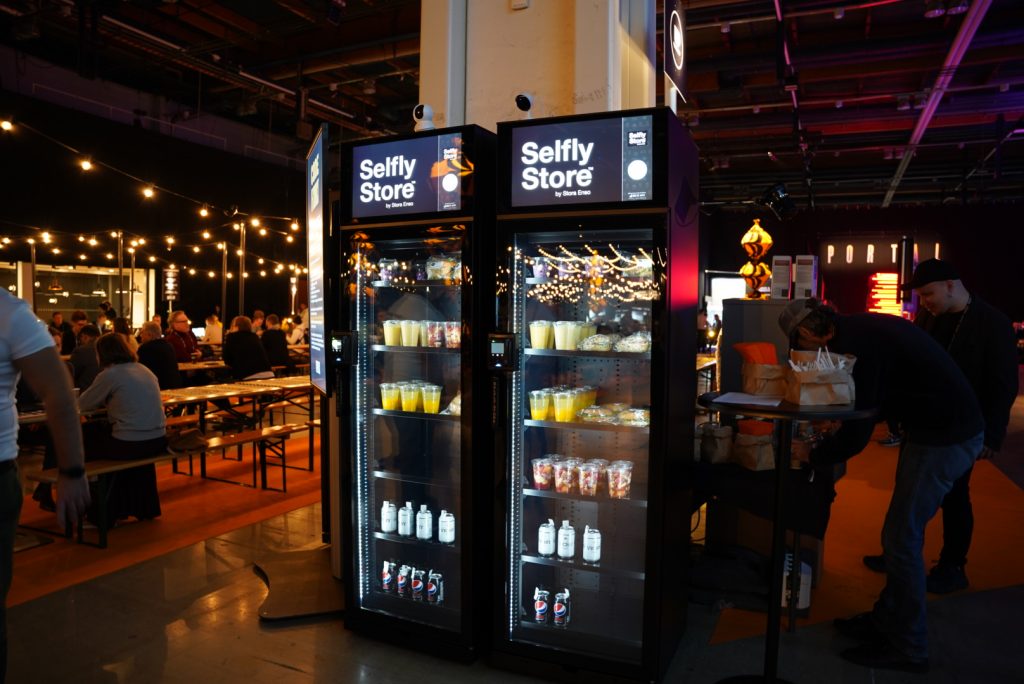 Happy consumers, increased sales, and several new learnings
The cabinets proved to be a shopping channel which had previously been missing at Slush. Consumers found it to be a great complement to the traditional cafeteria foodservice offering and the company could increase their sales from not only lunch time peak hours, but from continued sales throughout the two day event.
The most popular products, in number of items, were beverages. But in terms of revenue, salads crushed it. The number one best selling item in real numbers was Pepsi Max, followed by goat cheese bagel, mango smoothie, and mozzarella salad.
A clear learning was to have as many meal items possible ready when lunch time hits. On the first day, Thursday, lunch hour hit very quickly, and salads ran out of stock resulting in a significant portion of lost sales.

Another learning was that when the official event agenda ended on Friday afternoon and the afterparty started, consumers still found their way to the Selfly Stores to continue buying something small to eat. This is also largely supported by data that we see in other industry segments, for example hotels and public spaces, that consumers buy around the clock.

And what did the customers have to say? Have a look at the videos to find out.
Contact us
What would you like to get in touch about?