Heymo 1 by Sokos Hotels and Selfly Store collaboration
Heymo 1 by Sokos Hotels in Espoo is redefining the hotel guest experience with a unique concept: encouraging guests to spend less time within the hotel and more time exploring the city. At the core of this vision lies a strong collaboration with Selfly Store, an automated retail solution provider, which has significantly improved both guest and staff experiences.
Heymo's vision
Heymo Hotel strives to create an environment where guests pay only for what they need while offering essential services and amenities for a comfortable stay. Super comfy beds, 24/7 human service, digital check-in, and breakfast and amenities available from smart cabinets around the clock are all part of the Heymo experience.
The hotel's primary focus is on providing services that cannot be found in the city, such as personalized recommendations from Fixers, their staff members who are always on location and ready to assist with any guest needs. Heymo encourages guests to explore the city and its surroundings, with the hotel serving as a base for relaxation and a good night's sleep.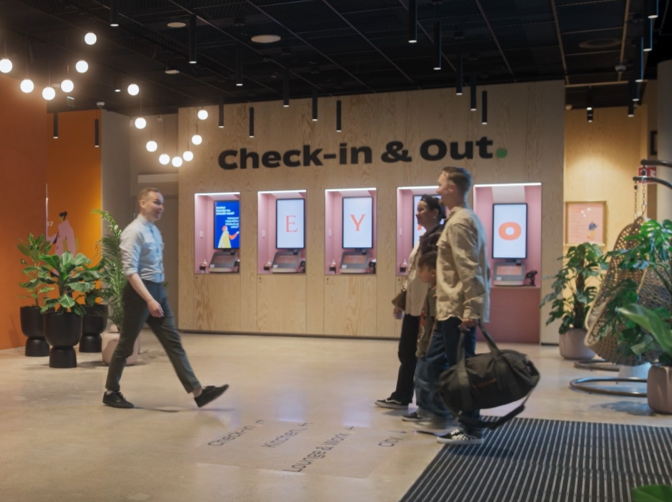 Collaboration with Selfly Store
The partnership with Selfly Store has allowed Heymo to offer a seamless, contactless retail experience for guests through the use of Selfly Store intelligent cabinets. Available 24/7, these smart cabinets provide guests with an All-Day-Breakfast package, snacks, and other essential items, all purchasable with a payment card.
This collaboration has not only enhanced guest experiences but also positively impacted staff experiences. During the onboarding process, Heymo staff members received comprehensive training on using the Selfly Store solution, enabling them to efficiently manage inventory, fill the cabinets, and handle tagging of products. The Selfly Store solution also offers automated receipt generation, making the process even more convenient for both staff and guests.
Key benefits of the Heymo and Selfly Store collaboration
The collaboration with Selfly Store is an essential component of Heymo's innovative concept, where guests only pay for what they need, and many of the hotel's services are automated. This partnership has yielded numerous benefits across different aspects:
Enhanced Guest Experience: Selfly Store's automated retail solution allows guests to access essential items at any time of day, providing flexibility and convenience during their stay. Whether it is an all-day breakfast, bathrobes, or a stuffed animal for kids – the amenities will be found in the Selfly Store cabinets.
Streamlined Operations: The automated sales of whatever guests need frees up hotel staff to focus on providing personalized services and engaging with guests in a more meaningful way. In addition, the Selfly Store's automated inventory management system ensures that the store is always stocked and reduces the risk of food waste.
Personalization: The intelligent cabinet solution, powered by the Selfly Cloud, helps the hotel customize product offerings based on guest preferences and feedback. Using the data insights from the Selfly Cloud, Heymo can enhance personalization and deliver unique and memorable experiences for guests.
Conclusion
The collaboration between Selfly Store and Heymo Hotel by Sokos demonstrates the potential of innovative partnerships in enhancing both guest and staff experiences in the hospitality industry. By embracing automated retail solutions, Heymo 1 by Sokos Hotels has successfully created an environment where guests can enjoy a comfortable, personalized stay while being encouraged to explore the city, knowing that essential services are available at their fingertips.
Contact us
What would you like to get in touch about?