Selfly Intelligent Cabinet shipping package design wins ScanStar Award
Stora Enso has received four Nordic ScanStar awards for convenient, eco-friendly packaging designs that replace plastic. One of the winners is the logistics packaging for the Selfly Intelligent Cabinet.
This year the ScanStar awards received a total of 32 submissions from the Nordic countries and 14 awards were given out. The jury assessed the level of competition to be high – especially among the transport packaging, were many innovations improve both product protection and the user experience.
Winner: Logistics packaging for Selfly Intelligent Cabinet
The packaging replaces solutions that typically include a mix of materials: EPS, shrink-plastic, and wood. It is trouble-free to recycle as the entire packaging is made of renewable corrugated board. The packaging process does not require any external tools and supports ergonomic work throughout the supply chain.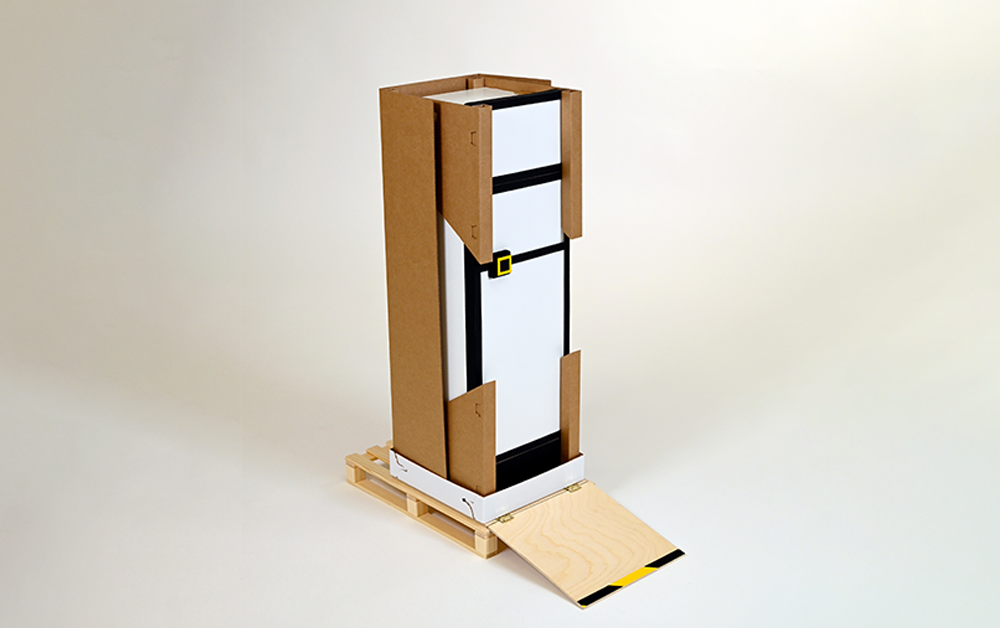 "Typically, this kind of product needs many different packaging materials for transportation, but this solution is totally made monomaterial with a few components only – paperboard sleeves, corner protections etc. Simple but clever structural design without any tooling costs protects the product and only flat cardboard components will be left to recycle.", commented the Nordic ScanStar jury.
"Our goal is to build a sustainable business and we aim to actively find new ways to develop our operation in an environmentally friendly way. We saw a clear opportunity for this in the transportation of Selfly Intelligent Cabinets. Before we shipped the cabinets in wooden boxes, which worked well but were hard to handle after transportation due to their size. The new packaging design not only reduces waste but it makes the shipping process easier for our partners and customers as the packaging material does not take excessive space and can be easily recycled. Designing the new packaging so that we would not lose any of the main advantages of the old wooden packaging definitely presented a challenge for our design team and we are very proud of the result." explains Eero Knuutila, Director, Solution Delivery and Services at Selfly Store by Stora Enso.
The other winning Stora Enso packaging designs were a magazine packaging concept for Vogue Scandinavia, EcoFreshBox, and Lighting track Multipack. More information about the competition and winners can be read here.
About ScanStar
Scanstar is a joint Nordic packaging competition held annually since 1969 by the Scandinavian Packaging Association SPA. The competition is open for all packaging solutions designed, converted, or used in one of the Nordic countries. Scanstar 2021 was organised by Svenska Förpackningsgillet.
About Selfly Store
Selfly Store by Stora Enso is a turnkey solution for unmanned and automated retail. It combines the traditional retail experience with the latest developments in RFID technology to create a completely new way of serving customers 24/7. At the heart of the solution is the Selfly Intelligent Cabinet – an RFID-enabled fridge that enables consumers to buy items independently from the cabinet using contactless payment methods.