Blending tradition with innovation in the next-gen vending landscape
The future of retail is evolving at a rapid pace, and the same is apparent in the vending industry. Vendingland, a leading European vending machine operation and service company, has been at the forefront of this transformation, leveraging data and technology to offer exceptional customer experiences. We spoke with Niels van Noort, CTO of Vendingland, to gain insights into how they've tapped into Selfly Store's intelligent vending machines and cloud data to supercharge their business.
Vendingland's journey into intelligent vending
Vendingland started out 17 years ago as a family-owned business within the traditional vending and coffee machine sector. In 2019, the company expanded its offerings to include intelligent vending machines, smart fridges, from Selfly Store. The intelligent machines opened new avenues for Vendingland to supply a broader range of products like fresh food and juices not previously possible with the traditional machines. The COVID-19 pandemic further accelerated this shift, as businesses increasingly sought 24/7 flexible food services, a need traditional catering couldn't fulfill as readily.
Today the company comprises around 60 employees and has grown significantly over the years. Data has always been at the core of the operations and has ensured Vendingland can optimize their business and drive efficiencies. Despite doubling their business over the last few years, they haven't had to add any new employees. "We analyze data to manage more machines with as few people as possible," says Niels.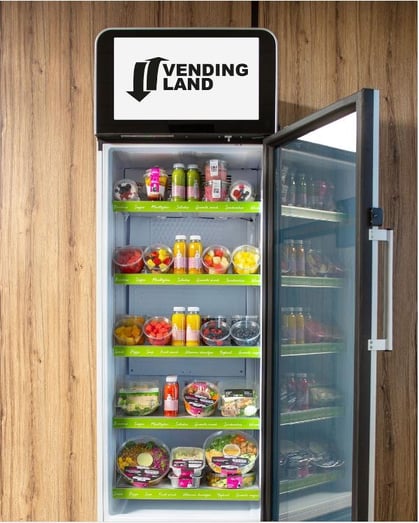 Becoming a data-driven company
One example of how Vendingland works with data is related to the discovery of issues and problems. As one of the pioneers at that time, Vendingland started using QR codes on their machines to manage malfunctions more efficiently about 12 years ago. Previously, when a machine malfunctioned, the technical team had to manually verify each machine in a building, wasting precious time and resources. Vendingland's implementation of QR codes was a game-changer. Each machine was assigned a unique QR code. Whenever a machine faced a malfunction, consumers or building personnel could quickly scan the QR code, which instantly sent a notification to Vendingland's central system, detailing the exact machine location and its issue. This data allowed technicians to address the problem without delay, improving machine uptime and customer satisfaction. Today QR codes have become a best practice amongst many vending companies. And today, when Vendingland is operating on increasingly intelligent technology, they get automated reporting and alerts as soon as machines themselves discover any issues, for example with a rejected payment.
Another example of how Vendingland has pushed the boundaries in becoming data-driven is how they have evolved their replenishment process with help of data. "Initially, we worked with static picklists. For instance, if we aimed to restock 10 cans of cola for a machine, we'd prepare 10 cans on the picking day. But often, a few days later, by the restock day, a few slots would already be empty due to interim sales. Recognizing this, we began analyzing sales data and adjusted our replenishments. If we're picking the products on a Monday, but doing the replenishment on Wednesday, we now account for sales during those days. This ensures that when we arrive for replenishment, the machine is optimally restocked. By embracing this approach, our machines remain consistently full, and we've been able to cut back on replenishment trips, sometimes halving them from four to just twice a week", Niels explains.
Intelligent vending has offered new business opportunities
While traditional vending and coffee machines still play an important role in Vendingland's business portfolio, the expansion into intelligent vending has allowed the company to reach new markets and segments. Niels explains "By including the Selfly Store machines in our business portfolio, we can now offer our customers everything they need. We become a one-stop-shop whether it is for coffee, snacks, or fresh food". When expanding into the fresh food sector, Vendingland has partnered up with food services companies and grocery chain partners which have extensive experience from managing and selling fresh food.
"A couple of notable advantages of the Selfly Store machines are their flexibility in stocking, and their enhanced consumer experience. In a traditional machine we might for example be limited to 14 chocolate bars because they need to fit into the available slot. With a Selfly Store we can stock as many chocolate bars as we'd like, and we can stack and pile them in wherever way we want in the cabinet."
However, the Selfly Store solution comes with a learning curve. To enable real-time data analytics in the Selfly Cloud, and capabilities like expiry data management, RFID tags on all products are necessary. One step in the product tagging process includes imprinting the product information on the tags using, for instance, a printer. The Selfly Printer is currently capable of encoding and printing one product type at the time, which means that operators have to re-program the printer between each product print. Vendingland saw the need to be able to print multiple types of products in one go, why they built a program powered by Selfly Store's Cloud API, to enable batch label printing. A customer can now input their inventory list from the Selfly Cloud, and the system will generate printed labels for the entire batch, streamlining the process and reducing the time taken exponentially.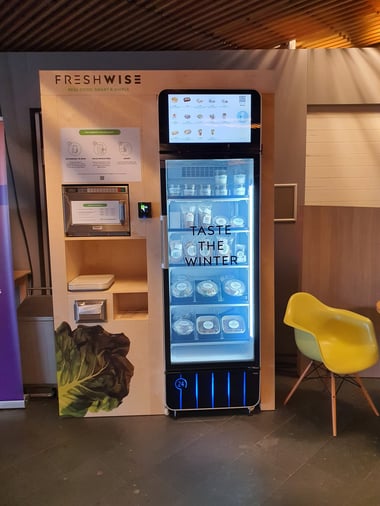 Integrating data streams between the Selfly Cloud and partners' Enterprise Resource Planning (ERP) system
As Vendingland has progressed, the synergy between the Selfly Cloud solution and those systems of their partners has grown in importance. Niels elaborates, "Using the Selfly Cloud API, we've bridged the gap, allowing our partners to integrate their ERPs with the Selfly Store Cloud."
A prime example is Vendingland's collaboration with a major grocery chain in the Netherlands. "We've established an integration where product details, from images to prices, seamlessly flow from the partner's ERP straight into the Selfly Cloud, ensuring accuracy," Niels says. Once the sales occur in the Selfly Store, the data flows back into the ERP system. "Our goal? Treat the Selfly Fridge and Freezer as mini-stores within their broader ecosystem, automating processes alike to their traditional outlets", concludes Niels.
However, the journey isn't without its challenges. "We're still refining how discounts, especially those based on expiry dates, integrate within the system," Niels notes.
Understanding consumer habits and product offerings
At the core of Vendingland's successful growth is their keen understanding of consumer behaviour. "Despite the technological advancements, human habits remain consistent. Whether it's a regular gym-goer always reaching for a bottle of water post-workout, or office workers gravitating towards their favourite sandwich for lunch, patterns emerge," Niels shares. In fact, water tops Vendingland's list as the most popular item in general and at gyms, while sandwiches tops the list for Smart Fridges.
Interestingly, Niels notes, "A more streamlined product offering tends to yield higher sales. It's not about having countless options but rather the right ones." While the Selfly Store machines might have revolutionized vending with their smart features, their foundational principle remains the same: cater to what customers want. However, the initial stages of product assortment in a new Selfly fridge can be a puzzle. "Predicting what will be the best-sellers right from the outset is tricky. We're in the process of developing a tool, using data analytics, that can forecast early product preferences," Niels reveals. On a logistical note, Vendingland is also exploring fridge dividers for optimal product placement, ensuring items like salads find their designated spot.
Conclusion: Forward with tradition and innovation
Vendingland's transformation from traditional vending to the advanced capabilities of Selfly Store's machines underscores their adaptability and innovative spirit. Even as they embrace cutting-edge technology, their core values of trust and customer-centricity remain unchanged. As Vendingland continues its journey, this blend of tradition and innovation promises to shape the future of the vending industry.
Read the other blogs in the series here: