The Future of Vending: An Exclusive with Distribuy's CEO Tony Ficarella
In today's fast-evolving business landscape, innovation is the name of the game. One such innovation gaining momentum is the adoption of intelligent vending machines. We had the chance to sit down with Tony Ficarella, the CEO of Distribuy, a front-runner in this domain, to explore how they have pivoted their business into intelligent vending. Distribuy was established for over a decade ago, and is a leading provider of hotel and restaurant equipment in France, Spain, Belgium, Switzerland, and Luxembourg, working with customers like Marriot, Hilton and Disneyland. Their diverse product range includes pancake machines, jam dispensers, ice cream machines, and much more. Most recently they shifted their vending portfolio from the traditional vending machines into intelligent vending machines.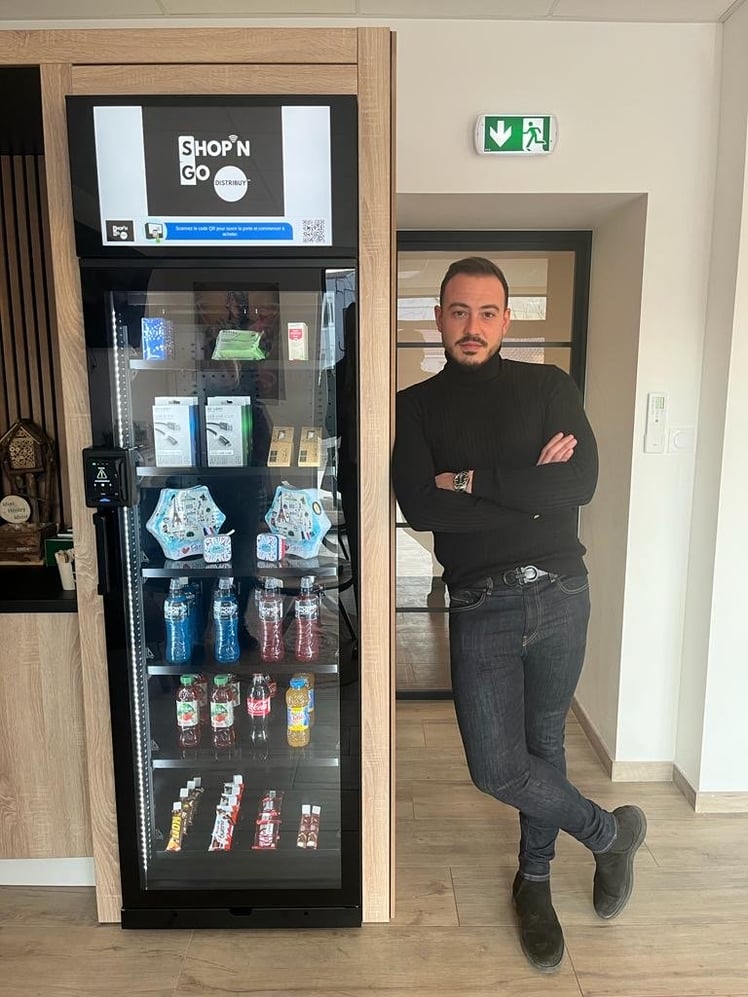 Embracing the Intelligent Vending Machine Revolution
Tony Ficarella, when reflecting on Distribuy's shift to intelligent vending, remarked, "Our transition was both natural and swift, driven by our zest for innovation and resolving ongoing challenges."
In the vending landscape, where the bulk of profit comes from coffee and a modest amount from snacks and drinks, the margin for errors is small. Tony elaborated, "Any mistake, be it in pricing or a machine malfunction, can severely dent our profit margins."
Recognizing these challenges, Distribuy saw the Selfly Store not just as a vending machine but as a comprehensive solution. It provided clear visibility, enabled quick price adjustments, and, crucially, offered remote product tracking, mitigating issues like waste and frequent breakdowns.
Another pivotal advantage, Tony noted, was customer refunds. Traditional machines often struggled with ensuring customers received their items, and if not receiving them, were warranted a refund. With the Selfly Store solution, this concern was eliminated, as items are no longer getting stuck in dispense slots or similar. Moreover, Tony mentioned that Distribuy can remotely track and monitor the health of their vending machine fleet, as well as products inside the machines, in real-time, and thus ensure a nearly flawless customer experience.
Distribuy's Operating Models for Intelligent Vending
Distribuy's strategic plan for integrating Selfly Store into their business adopts two primary pathways:
Optimizing the Customer Base: Focusing on their extensive clientele from hotels, restaurants, event venues etc. across Europe, they identified opportunities to upsell. For instance, a hotel that previously only had a pancake machine might now be interested in the Selfly Store vending machine to enhance their guest experience. In this model, Distribuy supplies the items in the machine and profits from the product sales. This approach is free for the hotel and gives the hotel an opportunity to vastly enrich the hotel guest experience.
Rental Model: Recognizing the diverse needs of businesses, Distribuy also initiated a rental model. For example, a small café in Spain that operates only during the summer season might not see the need for a permanent vending machine. For such clients, Distribuy offers the intelligent vending machine on rent, giving them a chance to upscale their services temporarily. This flexible model provides a cost-effective alternative to the more cumbersome and permanent setups often seen in traditional company canteens.
In some more rare cases, Distribuy also offers customers to purchase the machines, where the customer is then responsible for operations and maintenance of the equipment themselves. With these models, Distribuy is not just offering a product but a versatile solution, tailored to diverse business needs and settings.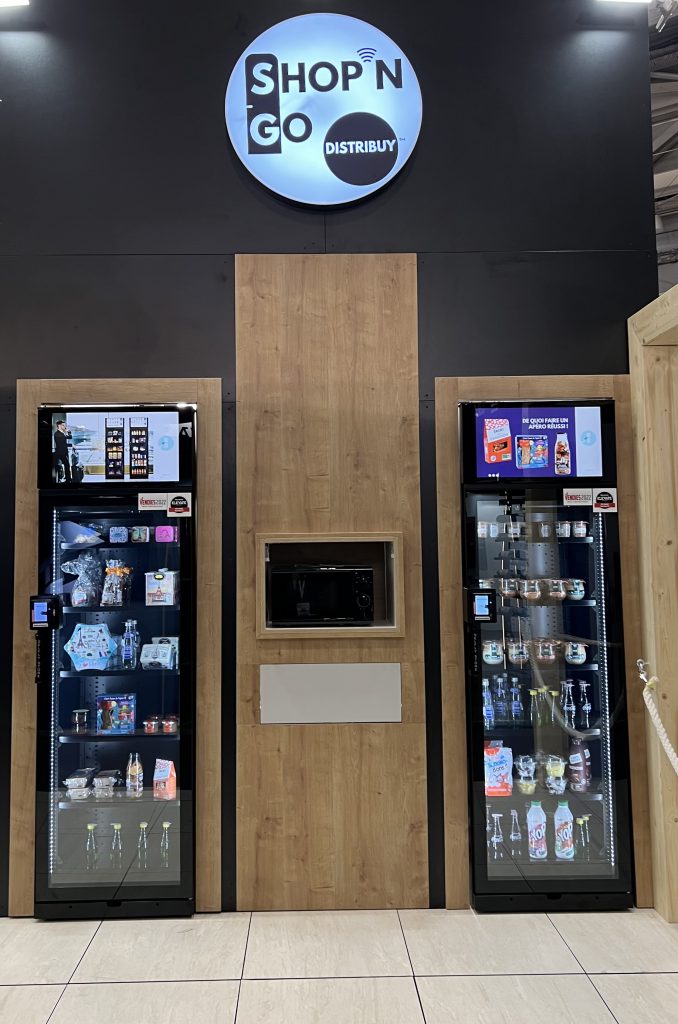 The Impact of Intelligent Vending for Distribuy
The impact intelligent vending machines have had on Distribuy's business can be seen in several areas.
Commercial and customer experience impact:
The Selfly Store machines, with their sleek and modern design, stand out from the typical vending machine. Combining a superior consumer experience with the visually appealing aesthetics align with the upscale brand image of many of Distribuy's target customers. Visitors and consumers encountering these machines intuitively know how to use them and instantly associate them with cutting-edge technology and superior quality, elevating Distribuy's reputation in the industry. It has also made it possible to enter a customer clientele who would typically not accept the visual appearance of a traditional vending machine on their premises.
Finally, Tony emphasizes the commercial importance of the sales data that Selfly Store provides. The analytics constantly enable Distribuy to pinpoint which products are popular and which aren't. This real-time insight allows them to all the time tweak their offerings, ensuring maximized sales.
Technical Impact:
One of the primary challenges with traditional vending machines is the frequent need for maintenance and repair, which can disrupt operations and incur costs. Tony Ficarella noted that in France, the average response time to faulty machines is 48 hours. This means that during these periods, no sales are made and in a standard working month of 20 days, this can represent up to 30% of time. With Selfly Store machines, he has seen that the absence of breakdowns translates into an automatic profit gain. The direct savings from fewer repair needs are evident. Still, there are also indirect savings to consider: with machines operational for longer durations, there's a steady flow of revenue, and the need for emergency maintenance, which often comes at a premium, is reduced. At the same time, fewer breakdowns also means that Distribuy's customers enjoy uninterrupted service, solidifying their trust in the brand.
Operational impact:
Selfly Store's remote management capabilities have revolutionized the stock monitoring according to Tony. Everything, from real-time sales to stock status, can be accessed remotely. Employees working with replenishing the machines, can effortlessly ascertain their daily requirements by cross-referencing the Selfly Cloud data with on-ground stock, thereby optimizing product rotations and restocks. Additionally, the replenishers don't need to spend time onsite adjusting prices and modifying racks and dispense slots but can instead focus on crafting a premium display to enhance the consumer experience.
Return on Investment: The True Measure of Success in Intelligent Vending
Every transformative journey comes with its own set of challenges, and for Distribuy, the pivot to intelligent vending machines was no exception. Tony shared that initially, there were reservations about the investment required for this technological shift. Transitioning to intelligent vending machines required not only an investment in the machines themselves but also in training, system integration, and customer training.
Yet, the decision's positive return on investment (ROI) is according to Tony undeniable in the long run. He reports that the reduction in maintenance costs, combined with increased sales from optimized stock management and enhanced customer experiences, is already contributing positively to cover the initial investment. Furthermore, the brand upliftment and expansion into premium clienteles have opened up new revenue streams that were previously untapped.
Another intangible, yet invaluable ROI, has been customer trust. In an era where customer experience can make or break a brand, the flawless operation and sophisticated design of the Selfly Store machines have significantly enhanced Distribuy's brand equity.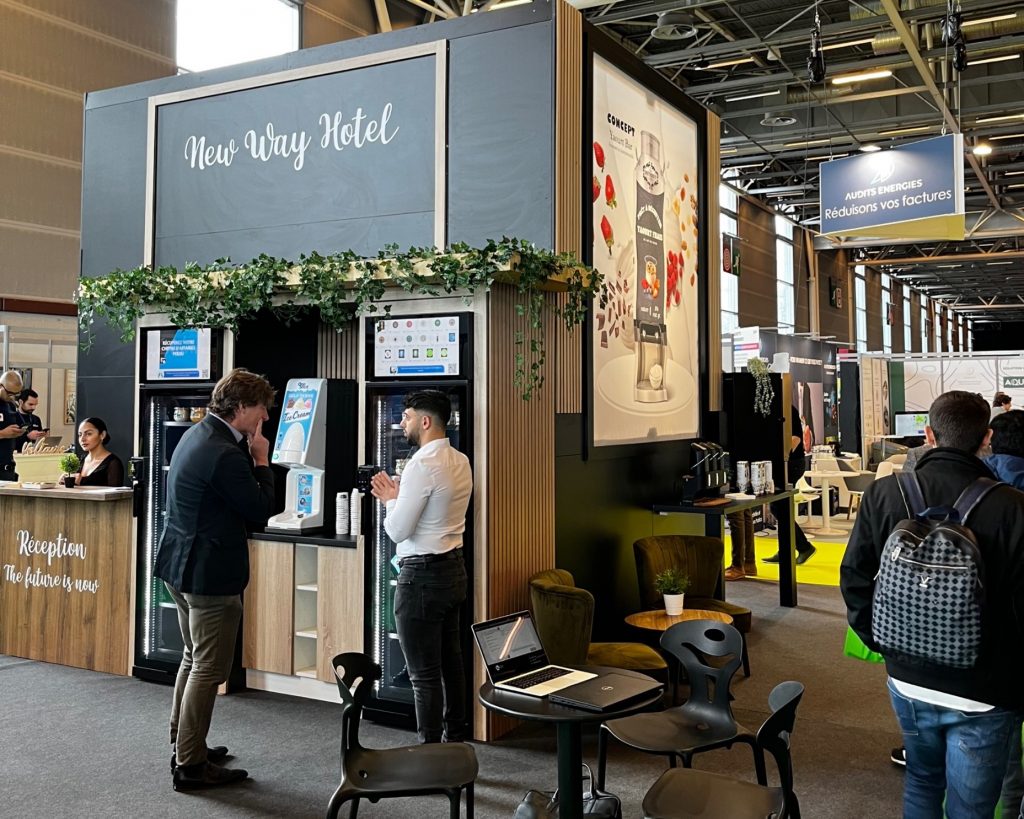 Looking Ahead: The Future of Vending with Intelligent Machines
Our discussion with Tony Ficarella underscores a crucial business lesson: true innovation goes beyond mere technological adoption. It involves foreseeing challenges, calculating ROI, and continuously adapting to ensure the highest value proposition for clients.
The world of smart vending, while promising, is still in its infancy. As technology continues to evolve, the possibilities for enhancing the user experience are limitless. The melding of machine learning, augmented reality, and seamless payment methods in the future of vending seems inevitable.
Tony's concluding thought resonates with the spirit of Distribuy's journey: "Innovation isn't just about new technologies; it's about reshaping the entire experience for our clients and their customers." With companies like Distribuy at the forefront, the future of vending promises to be exciting, rewarding, and revolutionized.