A practical example of unlocking growth through analytics – Swiss startup Noury's data-driven journey
Noury is a leading employee catering business based in the German-speaking part of Switzerland. Specializing in providing workplaces with affordable, well-thought-out selections of food, snacks, and beverages through Selfly Store fridges, Noury has expanded its reach across 11 Swiss regions since its start in 2021. Today, the startup's data-centric approach fuels its growth and shapes its understanding of customer needs. In a recent interview, Noury's CEO and co-founder Lena Schüpbach revealed how the company leverages data to drive business decisions and customer satisfaction.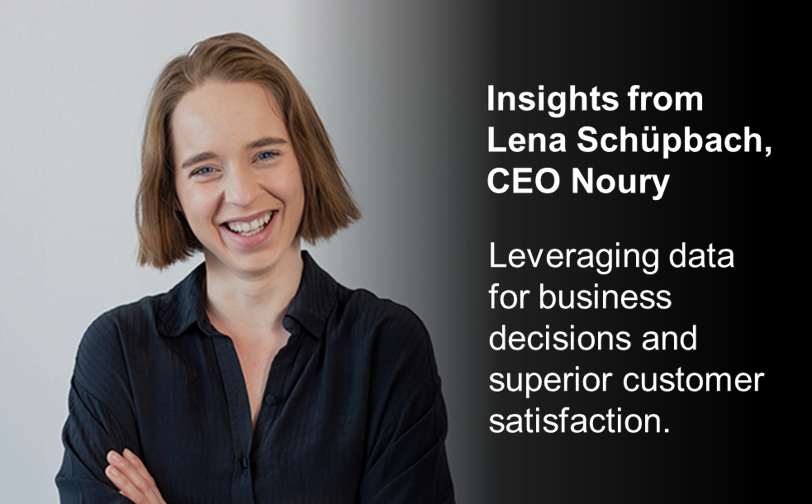 The significance of data analytics in Noury's daily business operations
Data utilization is at the core of Noury's operations. Whether it's determining which snacks to stock the Selfly Store cabinets with and when, or figuring out customer preferences, Lena highlighted that every department within Noury relies on data from the Selfly Cloud. A few examples underlining this principle:
Logistics: The logistics team works daily with Selfly Cloud data to determine inventory requirements. They extract real-time information on what's available in each fridge and have tools to tell them exactly what needs to be refilled for optimal inventory levels, reducing waste and ensuring customer satisfaction.
Client relations: The client relations team employs Selfly Cloud data to monitor the performance of each fridge weekly. Metrics such as products sold, revenue generated, and the number of consumers per fridge are analyzed. These data points not only inform sales and product management but also provide insights into how well the company is meeting its clients' needs.
Sales: Based on past metrics and trends, sales teams can forecast client success rates. Data analytics aid in defining key metrics for identifying an ideal client.
A data-driven approach to defining ideal clients
Over the past two years, data analytics have not only been utilized in daily operational work, but also emerged as a fundamental element in Noruy's strategic decision-making processes. The data-driven insights have for instance helped the company refine its understanding of the ideal client profile for long-term success and profitability. Offices located in neighborhood areas, rather than busy city centres, have emerged as the optimal locations for installing the smart fridges. Current data suggests that such offices should ideally have around 100 employees per fridge to maximize usage and profitability.
Furthermore, Lena highlighted the critical role that consumer diversity plays in shaping an appealing and vibrant product inventory. Data analytics have shown Noury that a diverse workforce among their clients leads to varied product preferences, enriching the inventory and making it more engaging for employees. By taking a data-driven approach to client profiling, Noury can focus its marketing and sales initiatives more effectively, ensuring both customer satisfaction and business growth.
Revealing consumer habits and streamlining operations
One surprising insight Noury gained from the data is what could be called the "Tuna Sandwich Phenomenon." Contrary to the initial belief that inventory should frequently rotate, Noury's data revealed that some fridges sold up to 90% tuna sandwiches in the salad and sandwiches category. This example underlines the importance of understanding consumer behaviors, which also varies across different departments in client companies. For instance, at one of Noury's client offices, the Marketing department's fridge sold different items than the Logistics department's fridge. People in this Marketing team, mostly women, liked trendy foods, while those in Logistics, mostly men, liked more traditional options.
Beyond revealing specific consumer preferences, analytics have been pivotal for Noury in rationalizing their product assortment. The company recently slimmed down its original variety of 72 snack options to a focused lineup of 20 core items. This not only streamlined operations but also increased efficiency in inventory management.
Real-life success story: The remote horse-riding centre
Another fascinating case Lena shared revolved around the challenges presented when setting up and managing a fridge at a horse-riding facility. Initially, sales were low, leading to costly refilling trips. Quite soon Lena handed over the client responsibility to one of her team members who had a background in horse riding. The team member used his firsthand knowledge to select the fridge's offerings of just 10 different items. While only 10 different items were in play, he made sure to fill up the fridge to the brim with those products. The result was astonishing. Monthly revenue shot up from 200 Swiss Francs to 1,400 Swiss Francs.
This story reveals the critical role that human intuition and expertise can play, even in data-driven operations. Before robust data could be gathered to make informed decisions, Lena's team member used his practical knowledge to drastically improve sales. His understanding of the target demographic—largely children and families involved in equestrian activities—guided his choices. He stocked the fridge with affordable, mainstream items that he knew would appeal to this specific customer base, reducing the frequency of refills and increasing efficiency. This example proves that while data is invaluable for optimizing operations, having team members who deeply understand their environment can provide a level of insight that raw data alone may not capture.
Noury's data-driven path forward
Today, Noury has built structured processes and ways of working to analyze the data provided in the Selfly Cloud. Looking into the future, Lena highlighted the need for increased dashboard capabilities within the Selfly Cloud. Enhanced dashboard capabilities within the Selfly Cloud will allow for quicker access and visualization of data, making data-driven decisions easier and more efficient. This aligns with Noury's plan to grow rapidly in the German-speaking regions of Switzerland and provide the best product selection for their clients.
As Noury looks to the future, their commitment to analytics remains the cornerstone of their evolving success. Data is more than a buzzword; it's central to Noury's business strategy.
Read the other blogs in the series here: