Verkokauppa.com at Assembly Summer 2023
Selfly Store and Verkkokauppa.com reshape the gaming and tech retail landscape at Assembly Summer 2023
Finland's largest gaming and digital art event Assembly Summer 2023, with approximately 30 000 visitors, witnessed a groundbreaking collaboration that left gamers and tech enthusiasts buzzing with excitement. Selfly Store, renowned for its intelligent vending machines and comprehensive cloud system, teamed up with Verkkokauppa.com, a leading electronic retailer in Finland, to create an unforgettable experience.
Verkkokauppa.com's Head of Brand and Communications, Lauri Kutila, noted, "We're thrilled to have been a part of this notable collaboration at Assembly. It's not just about selling products; it's about enhancing the entire gaming experience. We aimed to bring innovation to the event, and the response from attendees has been nothing short of fantastic."
Verkkokauppa.com brought its innovative touch to Assembly by showcasing six Selfly Store cabinets. The intelligent vending machines, which usually offer a variety of snacks and drinks, were given a whole new purpose for the event. Five of the cabinets were dedicated to selling a range of Verkkokauppa.com's gaming and computer equipment, including high-performance gear that had gamers intrigued. The Selfly Store machines gained attention with their blend of modern electronics and subtle lighting. With a diverse product mix and synchronized screens reflecting Verkkokauppa.com's branding, they offered a cohesive and memorable display.
Lauri Kutila reflected, "Visual appeal and brand consistency were vital in this collaboration. We aimed to create an immersive experience that resonated with our audience, not just showcase products. The synchronized displays underscored the seamless integration of our offerings with the technology of Selfly Store."
An introduction to the partnership between bk World and Selfly Store
A wide range of products were offered in the cabinets, and the clear bestselling product throughout the event was the Prime energy drink. Moreover, computer cleaning equipment, mouse pads, adapters, and other gaming essentials were high in demand, showing the event-goers' dedication to enhancing their gaming setups.
A pleasant surprise, finding its place alongside the tech gear, was the Coca-Cola branded mini fridge. The fridge turned out to be a hit, demonstrating the diverse potential of Selfly Store cabinets.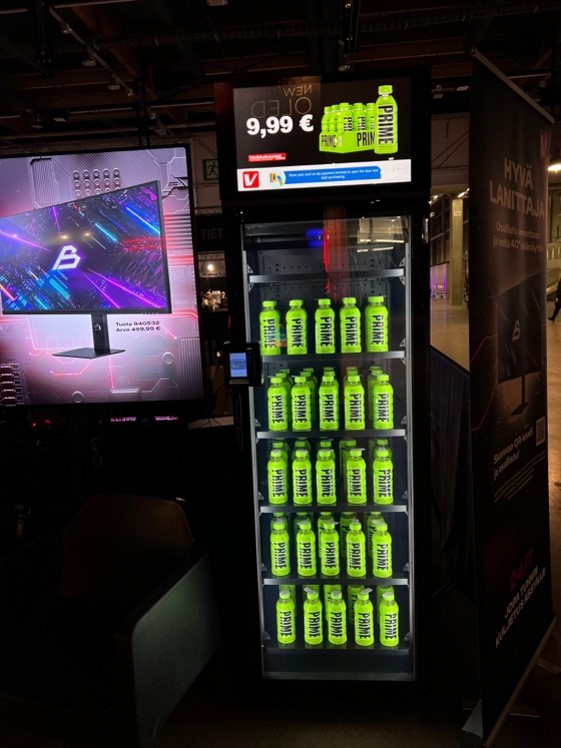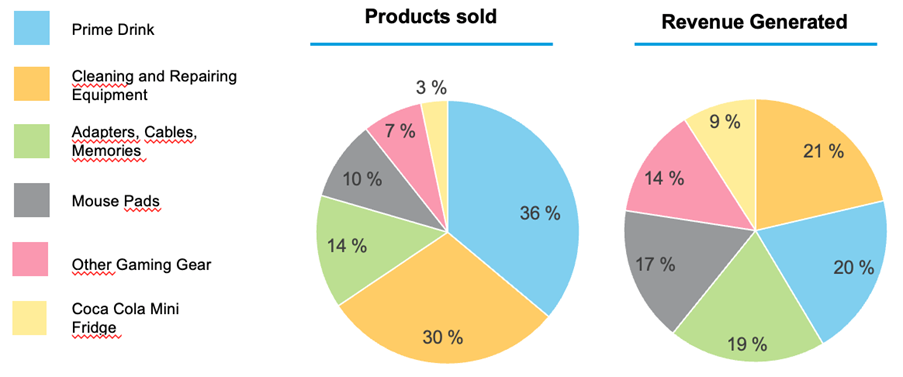 Picture: Sales data from Assembly Summer 2023 event.
The collaboration between Selfly Store and Verkkokauppa.com was successful, capturing the attention of the event's attendees. It showcased that Selfly Store's intelligent venidng machines can be versatile tools, offering more than just traditional snacks and drinks. The fact that the machines come in three different temperature versions (Fridge, Freezer and Ambient) and operate on RFID technology, allows merchants to offer products of any shape and form, providing them with endless opportunities to delight consumers.
Contact us
What would you like to get in touch about?