Selfly Store teams up with bk World for improved EV charging
In a new collaboration set to transform electric vehicle charging experiences, Selfly Store is partnering with bk World to enhance the comfort and convenience of electric carsupercharging stations. This partnership brings the cutting-edge technology of Selfly Store to bk World's state-of-the-art lounge facilities, elevating the quality of life for drivers as they recharge their vehicles.
bk World, a subsidiary of bk Group AG, has been at the forefront of revolutionising electric car charging experiences. Their lounges, equipped with an array of facilities including fully automated food services, small office corners, and even video games, are designed to turn necessary charging stops into welcome breaks. With the first bk World lounge deployed in Endsee, Germany, in June 2022, the plan is to establish 300 more lounges across Europe over the next five years. In late 2022, bk World entered a long-term partnership with Selfly Store, a leader in intelligent vending solutions, to further enhance bk World's automated food services. Each location will feature three Selfly Store fridges and one freezer, ensuring access to fresh food and frozen treats. The first two lounges with Selfly Store's intelligent vending machines are now open in Endsee and Füssen in Germany.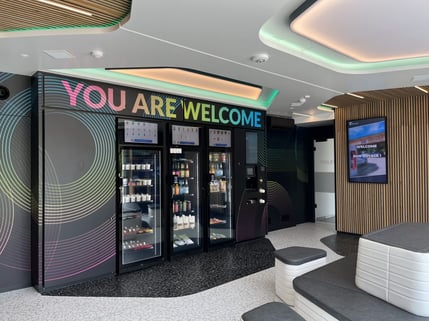 "We are incredibly happy to support bk World to further strengthen the customer experience at supercharging stations," says Aslak de Silva, CEO, Selfly Store. "Our intelligent vending machines are perfectly positioned to provide fresh food and snacks since the RFID-enabled item level detection, combined with a powerful discounting engine, can ensure efficient expiry date management of fresh food, and thus avoid food waste. Our Selfly Cloud also aids in inventory management and delivery route planning, which are crucial to operations of this scale."
Marc Arnold, CEO of bk World, further elaborates on the decision to partner with Selfly Store, "For electric car drivers, high quality, ease-of-use, and convenience are super important. When they stop at our lounges to charge their cars, they have about 15 to 30 minutes to take care of themselves. We have built a concept where they can enjoy snacks, beverages, and even freshly baked pizzas in a nice environment with no queues. In addition to a sleek design and high-quality consumer experience, Selfly Store provides us the flexibility to change our assortment at any time and monitor the inventory remotely in real-time. These are important features for us, since we want to support local suppliers and keep the best service level available for drivers."
With this partnership, Selfly Store and bk World are redefining the charging experience for electric car drivers across Europe, ensuring comfort, convenience, and access to fresh food and beverages during charging breaks.
Malin Östman, Marketing Director, Selfly Store
Picture rights: bk World Holding GmbH