A Step-by-step guide to implementing intelligent vending machines in your business
Implementing intelligent vending machines can revolutionize your business by offering an enhanced customer experience, optimizing inventory management, and opening up new revenue streams. In this article, we'll discuss the steps you should consider when implementing intelligent vending machines in your business and how to calculate the potential return on investment (ROI) for making the switch from traditional vending machines.
1. Assess your business needs and technology options
The first step in implementing intelligent vending machines is to assess your business needs and determine how these advanced solutions can best serve your customers and improve your operations. Consider the type of products you offer, your target market, and the locations where your vending machines will be installed. Understanding your business requirements will help you select the right type of intelligent vending machine to suit your needs.
When researching different technology options for intelligent vending machines, consider the following:
Radio Frequency Identification (RFID): Great for item-level detection and expiry date management. RFID also allows one to place products on any shelf and in any order. Using paper-based RFID tags rather than plastic tags contributes to increased sustainability. However, the RFID technology requires some initial training to ensure that the tags are placed accurately on each product.
Smart scales: Require calibration and could be challenging when selling products with varying weights (e.g., bananas of different sizes or salads). If the consumer puts back an item in the wrong shelf this could also be challenging for the system to recognize. On the plus side, many scale based systems are fairly simple to replenish from an operator point of view.
Camera vision: May need extra training when introducing new product categories and could have issues recognizing small or stacked objects. Cameras offer a non-invasive approach and can be more adaptable to a variety of products, but are many times a quite expensive solution.
By evaluating the pros and cons of each technology, you can choose the most suitable option for your business needs.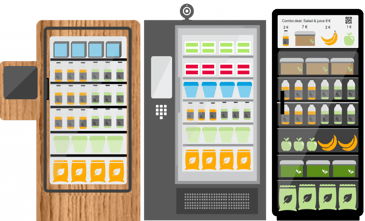 2. Research intelligent vending machine options and calculate ROI
When considering the different technology options, make sure to consider factors such as ease of use for both consumer and operator, analytics solutions (including revenue generating and cost optimization features), maintenance requirements, and the cost of implementation when evaluating your options.
To calculate the potential ROI for switching from traditional to intelligent vending machines, consider the following factors:
Initial investment: Calculate the cost of acquiring and installing intelligent vending machines, including any necessary hardware, software, and training.
Operating costs: Factor in ongoing expenses such as maintenance, software, and support.
Revenue growth: Estimate the potential increase in sales resulting from a wider product assortment, enhanced customer experience, advertising and dynamic pricing features, and data-driven decision-making. As an example, traditional vending machines average just one item per transaction, generating a modest revenue of 1.7 €/transaction. On the other hand, data from the Selfly Store cabinets show that an average basket size of 1.4 items/transaction and a revenue of 5.09 €/transaction.
Cost savings: Evaluate the potential savings from improved inventory management, reduced waste, and increased operational efficiency.
By comparing the costs and potential revenue growth associated with implementing intelligent vending machines, you can determine whether the investment is likely to be profitable for your business.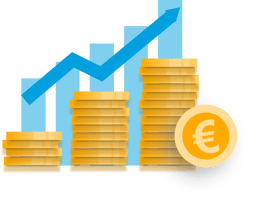 3. Develop a strategy for implementation
Once you've chosen the appropriate intelligent vending machines for your business and calculated your potential ROI, develop a strategy for implementing the new technology. This plan should include factors such as choosing the right locations for your machines, training staff to manage and maintain the new equipment, and developing a marketing strategy to promote the new machines to your customers.
4. Promote your intelligent vending machines and launch special offers
When launching a new intelligent vending machine at a specific location, consider using advertising and special offers to attract customers and create excitement around the new addition. This can include offering limited-time discounts, bundle deals, or loyalty rewards for using the new machines. Promoting your intelligent vending machines and providing attractive incentives can help drive initial customer engagement and establish long-term customer loyalty.
5. Integrate intelligent vending machines into your operations
As you begin to integrate intelligent vending machines into your business, ensure that your staff is well-trained on the new technology, and monitor the machines closely to address any issues that may arise. Collect data on sales, inventory levels, and customer preferences to continuously optimize your operations and make
Conclusion
Implementing intelligent vending machines in your business can significantly enhance the customer experience, improve inventory management, and open up new revenue streams. By carefully considering your business needs, researching technology options, and calculating the potential ROI, you can make an informed decision about whether to invest in these innovative solutions. A well-planned implementation strategy, coupled with targeted promotions and ongoing monitoring, will ensure that your intelligent vending machines become a valuable asset to your business. Embracing this cutting-edge technology can help you stay competitive in a rapidly evolving market and position your business for long-term success and growth.